Proposed pavement replacement of U.S. 218 bridge north of North Junction U.S. 30 in Benton County
Posted on: Aug 22, 2022
The Iowa Department of Transportation is requesting public input for the proposed pavement replacement on U.S. 218 over the abandoned railroad crossing 2.6 miles north of North Junction U.S. 30 in Benton County.
Construction of the project is expected to begin in Spring of 2024.
Traffic will be maintained at certain times during construction; however, it will be necessary to reduce traffic down to one lane via the use of flaggers during the removal of the bridge rail, guardrail, and placement of the flowable mortar. In addition, there will be a traffic detour during a portion of the summer months. More details will be provided once the contract period is known. When US 218 is closed, traffic will be detoured via County Road E44, County Road V66, and US 30.
Comments and questions regarding this project should be received by
September 21, 2022.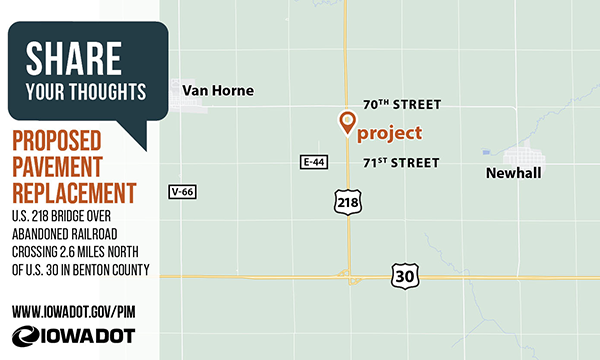 Project contact
If want more information about the project or need help for persons with disabilities or limited English skills, contact:
Catherine Cutler, Transportation Planner
Iowa DOT District 6 Office
1020 S. Fourth St.
Cedar Rapids, Iowa 52404
Phone 319-286-4908
Email: [email protected]
We are piloting REACH a mobile web app that gives you a new way to stay involved and interact with Iowa DOT projects. Create your REACH account at this link: https://reach.iowadotpi.com/.Then, use the REACH app to easily submit comments, register for public meetings or view the "At Your Own Pace" online meetings without logging into the system again. Because it's optimized for use on a mobile device, commenting and keeping up to date on Iowa DOT projects will be more convenient than ever.